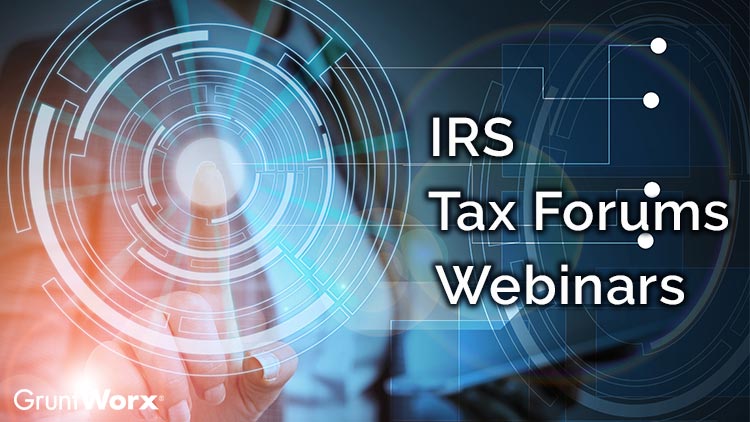 Coronavirus seemingly won't be content until it has body slammed all of our tax industry traditions. Unfortunately, the IRS Nationwide Tax Forums are latest of our idols to fall under the hammer of COVID-19—sort of. The Internal Revenue Service recently announced that in-person Tax Forum events will be replaced by a series of webinars.
But is the transition to a webinar format something to mourn? Here at GruntWorx, we've hosted webinar events for years. The convenience of learning from home—and saving money normally reserved for travel—could be an unexpected silver lining for tax professionals across the country.
Will webinars replace all in-person IRS Nationwide Tax Forum events?
The IRS said that it will not host in-person IRS Nationwide Tax Forums in 2020. That means the only way to earn the 30 possible continuing education credits that are up for grabs is by signing up for a webinar event. And you'll need to visit IRSTaxForum.com to sign up for a four-week Tax Forum event.
Conveniently, the agency also let us know when they plan to start hosting these virtual events: "The Forums will begin on July 21 and continue through August 20. Webinars will be live streamed each Tuesday, Wednesday and Thursday."
What will the Tax Forum webinars cover?
The IRS said that the Tax Forum webinars will cover many of the same topics that attendees of in-person events have come to expect for the past thirty years: "The agenda includes tax law and publication updates, as well as multiple sessions on qualified business income, exam and enforcement priorities, due diligence, cybersecurity and more."
As in previous years, webinars will feature IRS and tax industry-representatives, and some will be broadcast in Spanish. That said, your next concern is probably the price tag.
Early Bird discounts for Tax Forum webinars are available!
The IRS said that signing up before June 15 at 5:00 p.m. EST will mean saving more than $40 on registration: "Tax pros who register by June 15 at 5 p.m. ET qualify for an early bird rate of $240 per person. The price will then go up to $289." Additionally, everyone who signed up for a Tax Forum before the transition to webinars was announced "can transfer their registration to the virtual format at no additional cost" or get a full refund.
Interested in improving the efficiency of your tax office?
If you're comfortable attending a Tax Forum webinar, consider signing up for a GruntWorx demo. Our resident tax automation experts provide a step-by-step explanation of integrating Organize LITE, Organize, Populate, and Trades with your existing tax workflow. From using it with your professional tax software to developing a plan to train your staff, we make sure you're ready to hit the ground running.
Signing up for a demo is easy. Simply visit GruntWorx.com, enter your email address, and click the orange FREE TRIAL! button to get started. If you prefer chatting with someone by phone, call 877.830.6059. We can't wait to hear from you!
Source: IRS Tax Tip 2020-64